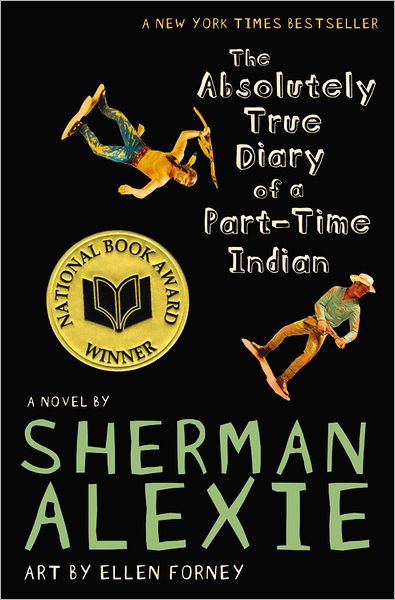 My friend, Wendy, sent me this book for Christmas after she read
this post
on my blog about how much I like to read Native American history and literature. I had mentioned a movie called
Smoke Signals,
which is based on another Sherman Alexie book of short stories,
The Long Ranger and Tonto Fistfight in Heaven
.
Wen is a public school librarian and always sends me Young Adult literature, all of which I have to admit (Ow! My arm - it's twisting!) is superb. (She has excellent taste - that helps.) So, this book,
The Absolutely True Diary of a Part-Time Indian
, is of course also written for teens, although the rest of Alexie's work isn't necessarily aimed at YA readers.
In real life, Sherman Alexie left the Spokane Indian Reservation in Washington state as a teenager to attend a nearby, predominantly white public school in search of a better education. In
The Absolutely True Diary of a Part-Time Indian
, Alexie tells the fictional story of Arnold (Junior) Spirit as he walks the gauntlet between the accusations of betrayal and abandonment that come from his tribe on the Rez and his own need to belong and succeed at his new white high school. Junior is a cartoonist, so the book is illustrated by Ellen Forney with hilarious and heartbreaking cartoons that perfectly reflect the humor and melancholy of the writing.
Alexie's hyper-real portrait of a typical American teenage boy is as brilliant as his hyper-real portrayal of modern day American Indian life. He is unapologetic, poetic, emotionally honest, gross, and funny. It's a quick, easy read (my sister-in-law, Jasmin, stole it from me and read it all over the Christmas break while I was distracted with bourbon and conversation with the relatives) that tells a story that feels like a punch in the gut. Wendy says it's perfect for boys who say they don't like to read, and I think it's perfect for people who are looking for an authentic Native voice.